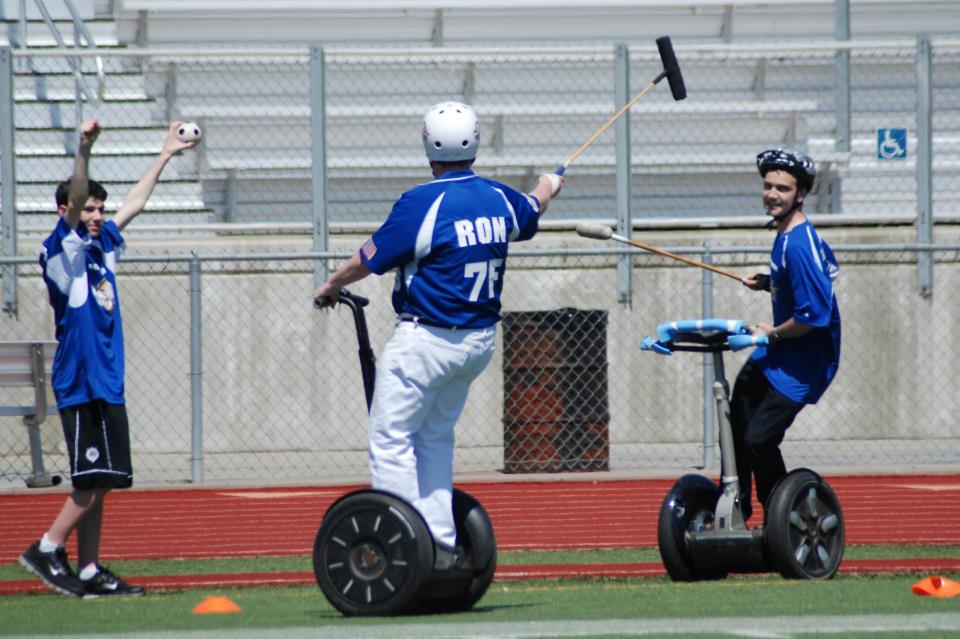 Ron Schnell - @RonnieSchnell
Frequently Asked Questions
I am known for several things:

I was a kernel programmer at all of the major commercial UNIX manufacturers
I am the author of "Dunnet", a famous text adventure that ships with every modern version of UNIX. It is probably the game installed on more computers than any other in the world, except for Solitaire. This includes WoW or anything else you can think of.
I am the founder of MailCall.Com, which I created and sold during the .COM boom
I ran the day-to-day operations of The Technical Committee from 2005-2011
I have been a denizen of the Internet/Arpanet since 1979

I started programming computers in 1975 when I was 9 years old. I programmed in FORTRAN on an IBM 360 on punch cards. I would go on to learn more than 30 computer languages, working at Bell Laboratories, Sun Microsystems, and IBM on the "kernel" of their versions of the UNIX operating system.

I've worked directly with some of the biggest names in the computer science field, including Patrick Winston, Jack Schwartz, David Korn, and Richard Stallman.

Lately, I have been a C-level executive and VP level executive at everything from personal services corporations, a multinational S&P 500 company, several technology startups, and the leader of day-to-day operations of a well known "think tank" for the computer industry.

Below is a list of questions I've gotten over the years about myself. Many of them have been submitted via e-mail, and some via press interview or casual conversation. If you have additional questions, feel free to contact me directly. I am easy to find!

What was the Technical Committee?

Until summer of 2011, I was the General Manager of The Technical Committee, and I ran the day-to-day operations. TheTC was formed as part of a court order that required us to monitor Microsoft's compliance with the United States v. Microsoft case Final Judgment, which was rendered in 2002. We were responsible for monitoring Microsoft on behalf of the United States Department of Justice and several states. TheTC was a 60-person company. We had powers similar to a special master of the Court. I was responsible for daily interaction with Microsoft, frequent interaction with the Attorney General of the US's antitrust bureau, as well as attorneys general from several states. I directed all senior staff, including program managers, engineering managers, and office managers. Our projects included experimental implementation of Microsoft proprietary protocols, and large-scale data capture at wire speed. I was also responsible for meeting with Microsoft competitors and partners to discuss various issues related to the Final Judgment, giving me a unique insight into the complete inner workings of Microsoft, as well as many important companies in the technology world.
---
What is your professional background?
Prior to my most recent work, my career can be divided into three areas of experience: UNIX kernel programming, entrepreneurship, and academia.
I have worked on the kernel of all of the major UNIX vendors. I worked at Bell Laboratories on UNIX System V, Releases 3.2 and 4.0, as part of the core kernel group. My most notable accomplishments there were the development of the first VFS filesystem for System V (BFS), and helping to integrate BSD features into System V as part of a joint effort with Sun Microsystems. I also worked at IBM on A/IX PS/2 and A/IX 370 kernel, and at Sun Microsystems on Solaris versions 2.1, 2.4, 2.5, and 2.5.1 (also on the kernel).
I have had 3 startups in my entrepreneurial career. The first one was a company called "Secure Online Systems" (SOS). It was a company that specialized in system administration software for UNIX mainframes. It is interesting to note that SOS was funded by a single "angel investor" (before such a term existed), and it happened to be Sylvester Stallone. "Sly" and I became well acquainted during that time, and it was really a blast to be associated with him. Unfortunately, mainframes all but ceased to exist around that time, and the venture was not a success. My second startup was called "Driver Aces" and it was a company specializing in device drivers for UNIX operating systems. We had many of the major UNIX vendors as clients, and it did well enough to support my family for the time I kept it going. My latest, and most successful startup was called MailCall.Com. It was a company that provides a service allowing people to manage their e-mail over any telephone. It used text-to-speech and IVR routines to allow subscribers to call a phone number, enter their PIN code, and listen to their e-mail. Users could then respond with their voice, forward the e-mail, fax it, print it (including attachments), etc. Unlike other services, Mail Call went out to the subscribers' existing POP3/IMAP e-mail boxes. It did not require a new, dedicated e-mail address, or setting up any sort of forwarding. I sold Mail Call in February of 2000 to a public company, which has since sold it to a private company. It continued up and running until 2007, and because I wrote all 175,000 lines of code, I continued to help keep it running until the end. Selling the company allowed me to take a lot of time off, and I got to do what most parents never get to do: spend quality time with their kids. From 2000 through 2002 I traveled with the family in our own airplane, and really had a great time.
In 2002, what was meant to be a short consulting gig to pass the time turned into a 3 year stint as a Vice President at Equifax, the credit bureau. I ran a large development team there in their Internet marketing division. The role was out of character for me, but it was mostly fun.
I was in the process of developing a new startup when I got the call about TheTC. As the TC's purpose recently ended with the expiration of the Final Judgment, I have been performing some short term expert witness and consulting tasks, under my current corporation, Quogic, Inc.
As far as academia goes, I started teaching at a very early age. I started lecturing in college at 14 (see below), and have taught many different age levels. I worked on important research at NYU, M.I.T., and Syracuse University. I was one of the founders of The Syracuse University CASE Center.
I am currently a Professor of Computer Science at Nova Southeastern University at their main Ft. Lauderdale campus.
For a more formal c.v. please see http://www.driver-aces.com/ron_resume.html.
---
What is your familial situation?
I have been married to Staci Schnell since July 24, 1994. She is a marriage and family therapist, and has a great knack for understanding families; especially teenagers. We have two children, Jeremy (born 1997) and Mallory (born 2000). Jeremy loves sports, and Mallory loves dance! Jeremy would like to be a sportscaster, and Mallory competes in ballet, tap, jazz, and lyrical, on a national level.
---
Where do you live now?
I generally base myself at our home in Weston, Florida, but I travel extensively around the world for consulting, to give talks, and to visit friends.
---
What are your hobbies?

I think it's really important to make time to enjoy life. Consequently, I have many hobbies:

Flying

I have been an instrument rated pilot since 1986.

Segway (Gliding) and Segway Polo

I own two Segways, a model i2 and a model i167, and I love to "glide" around on them. They cruise at 12.5 MPH, have a battery life of 24 miles with 0 emissions, and cost around $0.05 to charge fully from empty. In August 2007 gas prices, this is the equivalent of 1,000 MPG. The most important use for my Segways is for Segway Polo. I am one of the founding members of the Polo Bears team, which has played in several world championship tournaments. This team is located in San Jose, California. I plan to start a team in Florida, as soon as possible.

Poker

From 1993-1997 I was fairly well known in the poker world. I won several large tournaments for what at the time was serious amounts of money. Unfortunately, it was a different time, and the largest amounts were in the 5 digit range. If those tournaments were now, it would be 6 or 7 digits. My game is 7-card stud; not Texas Hold'em. However, my proudest accomplishment in poker is that I won the "Triple Play" tournament 3 years in a row (1/3 Hold'em, 1/3 Stud, 1/3 Omaha). Now that everyone in the world plays poker, I don't play very much. With the proliferation of Hold'em, it is nearly impossible to find a 7-stud game. I find Hold'em requires much less thinking than Stud.

Music

I play several musical instruments, specializing in keyboards and percussion. I have also written some arrangements for medium-sized orchestras.

Grammar

I am the grammar police.

Television

My interest in television is two-fold. I am an avid watcher of television, and I'm not ashamed to admit it. I like the escape of a good TV show, even if it is preposterous. I am also a television hobbyist, and am very active in the HDTV community.

Writing

I enjoy writing quite a bit. I hope to someday write a television show, and have written a few "spec" scripts. As mentioned above, I am currently working on a memoir.
---
Did you go to college when you were 14?
When I was 14, there was a lot of press about me because I was lecturing at NYU. Here's an example of the type of press. I was teaching computer languages to college seniors. At the end of the summer, NYU offered me a place in their freshman class. Being 14, I needed to make a decision between going to high school and going to college. I decided that it would be best for my social development to go to high school. During high school I continued to work in computers, including research at M.I.T. I even worked for Dr. Patrick Winston, the father of artificial intelligence. Before college, I had decided that I was "burnt out" from computers. I never wanted to see another computer for the rest of my life. I decided to major in television production, which is why I went to Syracuse University. Part of the reason I was admitted to Syracuse, however, was my prior accomplishments in computer science. Even though I had no interest in pursuing it, I was being recruited by the computer science department. Eventually, I agreed to work for the University, but I refused to switch majors. At the end of my freshman year, Syracuse made me an offer I could not refuse. They offered to skip me up to graduate school, and allow me to work for my Masters and then PhD without having to go through undergraduate. Oh, and they would pay my whole way. It was while I was in this situation when I got offered a lot of money to leave and work at Bell Labs. Sadly, I left Syracuse having never received the Masters degree. I've always felt extremely grateful for the opportunity that Syracuse gave me, and I lecture there regularly, on topics ranging from entrepreneurship to UNIX history. I have since been able to complete my Master of Science in Computer Science and receive it from Syracuse University.
---
What is "Artspeak"
Artspeak was a language I used while teaching at NYU. It was a really cool graphics language that was excellent for teaching young people how to program. I recently unearthed a draft manual for the language and became nostalgic. I soon found that Artspeak no longer existed ANYWHERE. I decided to rewrite it, based on the manual, and I have made it available for anyone to use, at http://artspeak.quogic.com
---
What is "Dunnet"
Dunnet is a text adventure I wrote in 1983, which became part of Gnu Emacs in 1992. I'm proud to say that it's quite popular, and I get fan mail almost every day. To play it, login to any modern UNIX system and type the following at the command line:

emacs -batch -l dunnet
Dunnet was actually not the first adventure game I wrote. My friend Nathan and I wrote a text adventure in SETL in 1981 while working at NYU. The programming style and general tone of the game was the inspiration for Dunnet. Nathan kept a hardcopy printout of the source to "DUNGEON.STL", and I recently (using only the printout) translated it to Python, and am testing the game for eventual release to the world.
---
I have other questions about Dunnet. Can you answer them?
Here are some questions and answers about Dunnet.
---
What's the deal with you and cheese?
You've heard about the cheese? Well, I grew up with my grandfather being in the cheese business. So there was always a lot of cheese in the house. I pretty much eat nothing but cheese. If you know a place with really good French Onion Soup, please drop me a line. I have recently (5/28/07) created a blog of my French Onion Soup tastings at The French Onion Soup Page. Remember: Cheese is protein.
---
What is your favorite movie?
I have to divide that answer into two categories: modern and classic. My favorite classic movie is Sunset Boulevard. My favorite modern movie is Fight Club.
---
What is your favorite book?
I can't decide between the following 3:
---
What's the deal with you and Saturday Night Live???

I have a weird record going: I have watched every single Saturday Night Live since the very first episode, and have done it in their original first run week of airing. This has been very difficult to do, especially through the less spectacular years. Believe it or not, I think the worst season was the 2005-2006 season (yes, worse than the 80s). Note that this streak ended in 2021, after Michael Che made a "joke" about Israel to which I took offense. I have stopped watching the show.
---
What's the fastest you've ever gone?

Mach 2.02 - on the British Airways Concorde, round trip JFK-LHR
---
Is it true you've been on the Internet since 1979?
Well, I started on the Arpanet in 1979. The Arpanet later became the Internet. I like to say that back then the Arpanet was so small that we all knew each other. It's not too far from the truth, actually. It was small enough so that there was no "DNS" and all of the machines on the network were in what was called "hosts.txt", which was just a text file that was transferred around from machine to machine. The first Arpanet machine I was on was called "MIT-AI" at the artificial intelligence lab at M.I.T. It was a PDP-10 running an operating system called ITS. Later I got accounts on MIT-MC, MIT-ML, and MIT-DM (all PDP-10s running ITS). Eventually, I got accounts on some Decsystem-20 machines running Tops-20 (MIT-EECS and MIT-OZ). I also have the distinction of having given Kevin Mitnick his first Internet account (on MIT-OZ). I was friends with him at the time. When I worked at M.I.T. I took a VAX-11/750 out of the box and named it MIT-EDDIE. I was the first user on this famous system that later became known as one of the "gateways to the world" as the Arpanet became the Internet and started growing. Before that happened, there was a disagreement between a co-worker named Doug and me. He wanted to run VMS and I wanted to run UNIX on MIT-EDDIE. I would just keep saying, "But UNIX is so cool!" And he would keep saying, "RSX-11 is the most robust filesystem ever invented!" So, as a compromise, we decided to run both. On alternating days, Doug would switch disk packs and reboot. MIT-EDDIE would run UNIX and become its alter-ego MIT-EDIE and run VMS. This ended suddenly one day, when Doug hit the "reload" button instead of "reboot" while switching from EDDIE to EDIE (UNIX to VMS). That meant that instead of reading the disk and booting, it started the operating system in core, and even though the VMS pack was in there it started writing UNIX stuff all over it. Lots of user files were lost, and that's how I won the battle of UNIX over VMS, and why MIT-EDDIE was able to play such a large part in the growth of the Internet.
---
What was your first home computer?
It was a Compucolor II by Intecolor Corporation. It had an 8080 processor, 16k of RAM and a floppy drive.
---
What was the first computer you used
It was an IBM 360. I programmed in Fortran on punch cards. I was 9 years old.
---
What Usenet newsgroups did you start?
I started rec.sport.football.fantasy and rec.sport.table-soccer
---
What is this cell phone protocol you are trying to promote?
Dropped cell phone calls continue to be a problem. To me, the worst part about it is that after the call is dropped, nobody knows what to do. Who should call whom? If there is no protocol stating what to do in this case, you will likely end up calling each other back at the same time. This can be very frustrating, because both parties will get voice mail.
I have therefore come up with a protocol which I have been using with all of my friends and am trying to promote throughout the world:
Whenever a call is inadvertently dropped, the party who initiated the original call shall initiate the new call.
Why is this the right way to handle it?
Most other ideas revolve making a decision on who caused the drop, or who has free minutes left, etc. This only works if it is guaranteed that the answer to these questions are known. A proper protocol must be able to be absolutely determined without specific knowledge.
It's easy to redial
Simple, right? It has saved me time and frustration, and I hope it helps you too.
---
What do you have against Matthew Broderick?
Where do I begin? ;-)
Actually, I think he's a great actor and seems like a nice guy. It's just that he stole one of my parallel universe lives. Back when there was lots of publicity about me in 1981, I got a call from Universal Studios. They asked me to come see them, so I did. They told me about this movie they were making where this boy genius is getting into trouble with the government and gets involved in some interesting adventures. They wanted me to do a screen test, because they thought the main character had similarities to me. They also told me that if I wasn't right as an actor, I could be the main consultant for the film. I was very excited about it, and we talked about next steps. I even told them the story about how I was fascinated by the IMSAI 8080 computer because of how cool it looked. Then I didn't hear from them for a while. I called them back and they informed me that they lost funding for the movie and sold it to MGM. The movie turned out to be Wargames. They even used the IMSAI 8080! Combine this with the fact that I always had a crush on Sarah Jessica Parker (Broderick's wife), and you've created a nemesis. Of course he's not really my nemesis. I'm thrilled with the way things turned out.
---
Someone told me that you have something to do with the band Phish?
I consider myself largely responsible for the creation of the band Phish. Well, maybe largely responsible is overstating it a bit. When I was in boarding school, I had a synthesizer called a Crumar DS-2. I played it sometimes in my dorm room. One of the other kids in my dorm was quite interested in it, and would come over and play quite a bit. He hadn't seen a polyphonic, digital synthesizer like that before. He ended up spending a lot of time in my room, playing the DS-2. When I left boarding school, I had to leave in a bit of a hurry (another story), and didn't have time to ship my synthesizer back home. Knowing that friend would respect it, I put it in his care until such time as I could arrange to get it back. Getting it back never actually happened. The friend who borrowed my synthesizer was Page McConnell, the keyboardist for Phish. I like to tell myself that the band would never have happened if not for me (at least the way it ended up). I would love to discuss it with Page, but he hasn't returned my e-mail. I will state here that I hereby release Page and Phish for all possible claims I could have from the loss of the synthesizer, and I of course don't hold anything against him. I'm more than happy to have contributed to the musical world in this way, and to have helped to make phans happy all over the world! Maybe now he'll write back to me?